10 Favorite Cookout Side Dishes
When you think about firing up the grill, lots of main dishes come to mind—burgers, hot dogs, and ribs for starters. Clearly meat reigns supreme on the grill…but don't forget that side dishes make the meal complete. When planning your next cookout, try these amazing side dishes. Some can go right on the grill, too!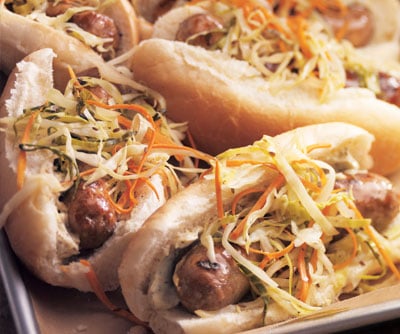 ---
This warm, tasty slaw is actually made on the grill alongside your main dish. It's a classic combo of cabbage, onion, and carrots. The coleslaw mixture comes together in the Rockcrok® Casserole placed on the grill and covered tightly with aluminum foil. This tender, vinegary slaw tastes amazing on top of grilled brats, hot dogs, or even piled high on top of burgers.

Get the Recipe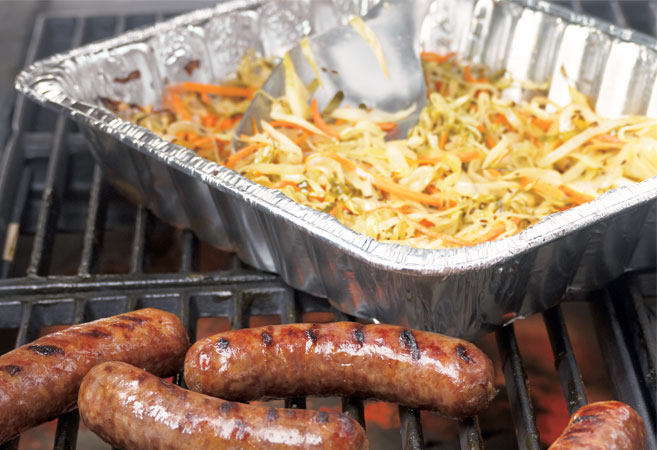 ---
2. Mexican Corn on the Cob
What could make corn on the cob better than salt and butter? Mayonnaise and cheese! Combine mayonnaise, sour cream, lime juice, and cayenne pepper. Once you've boiled (or grilled!) your corn on the cob, spread the mayonnaise mixture onto each ear and roll them in a grated parmesan cheese (or cotija) and cilantro mixture. You'll never go back to plain ol' salt and butter again!

Get the Recipe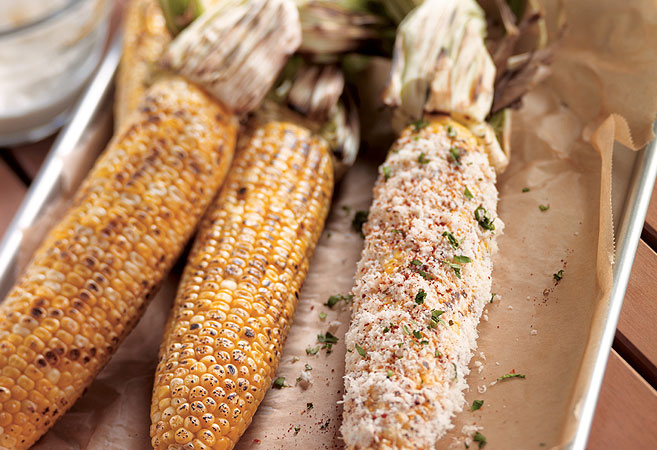 ---
You can cook beans right on your grill with a Rockcrok. Prep your grill for indirect cooking on medium heat. Then combine beans with your favorite flavors. Make your beans Tex-Mex flavored with chopped green chilies, chipotle-flavored with bell peppers or BBQ flavored with BBQ seasonings and bacon.
Grill tip: When cooking with the Rockcrok on the grill. Cover your dish with heavy duty aluminum foil.

Get the Recipe
---
Nothing signals to guests it's time for a cookout quite like potato salad. It's cool creamy, starchy goodness tastes awesome with smoky grilled meats. This tasty spin on the party staple features sugar snap peas, radishes, and green onions.

Get the Recipe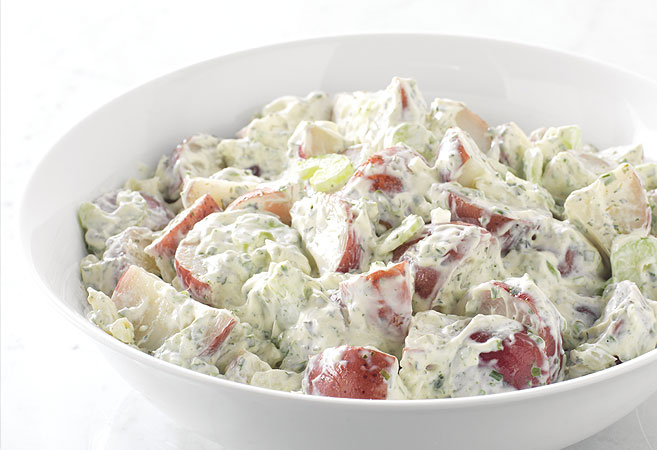 ---
Add more color to your picnic table with this bright, vibrant coleslaw. It gets its beautiful colors from red cabbage, julienned carrots and strips of red and yellow peppers. What makes this perfect for a party, is you can prep your vegetables and dressing in advance and refrigerate separately. To prevent the colorful vegetables from bleeding together, don't add the dressing until just before you are ready to serve the salad.

Get the Recipe
---
This is genius. Who doesn't love crusty bread as a side dish? It's also excellent for soaking up all the extra BBQ sauce on your plate. Yum! It's as simple as bread, melted butter, pressed garlic and grill flames.

Get the Recipe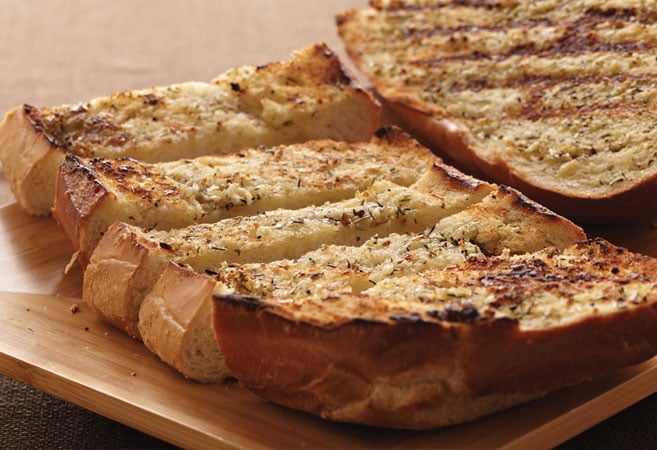 ---
Grilled Corn with Roasted Red Pepper Butter
Add a little color and flavor to the butter you slather on sweet grilled corn. Finely process roasted red peppers, shallots, parsley, and salt. Then add it to your melted butter. Brush the corn with half the butter and pepper mixture. Once your corn is beautifully charred on the grill, brush with the rest of the butter mixture. Voilà!

Get the Recipe
---
Italian Pesto Pasta Salad
A fresh pasta salad is a colorful standout at any cookout. And it's surprisingly simple to make at home. It's cooked pasta, diced salami, cucumber, olives, and mozzarella. Add a more color and flavor by mixing in prepared pesto.

Get the Recipe
Grilled "Baked" Potatoes with Chive Sour Cream
Baked potatoes are another familiar side dish that accompanies many BBQ dishes. But why bother with the oven, when the grill is already fired up? Brush potatoes with oil and sprinkle on salt. You'll want to start your potatoes early on the grill because they'll take 35-40 minutes until they're tender.

Get the Recipe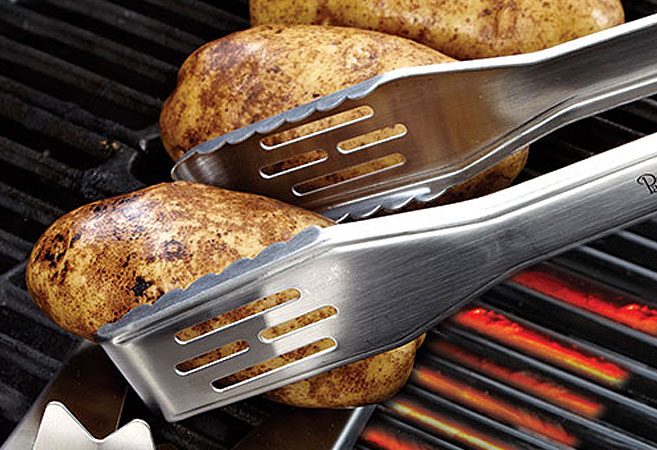 ---
Here's great recipe that turns a cabbage slaw mix from the store into a really tasty, extra crunchy side dish. Add chopped red apples, celery and toasted almond slices and a yummy cider vinegar dressing.

Get the Recipe
---