Use & Care
How to Use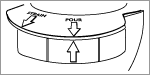 Wash prior to first use.
Line up arrows on reamer and base handle to choose pour or strain (see illustration).
Center halved fruit cut-side down over reamer; press fruit down and turn to extract juice. Discard fruit.
Lift Juicer by handle to pour desired amount of juice.
NOTE:
For best results, transfer remaining juice to a separate container for storage.
How to Clean
Dishwasher safe when positioned away from heating element.
Three-year guarantee for noncommercial use. Refer to sales receipt for details.
Made in Taiwan
Guarantee