Why You'll Love Our Nonstick Cookware
We have more than 40 years of experience creating and curating high-quality cookware for every kitchen.
3 Collections to Choose From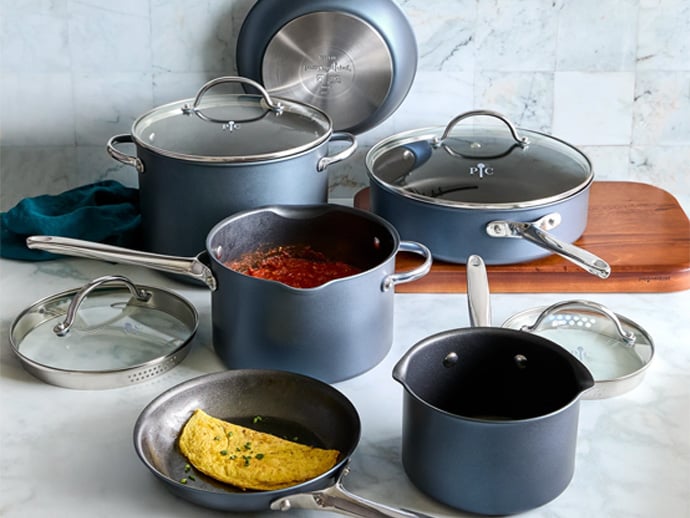 Brilliance Nonstick Cookware
This cookware looks great, cooks great, and cleans like a dream. Plus, it adds a pop of color to any kitchen.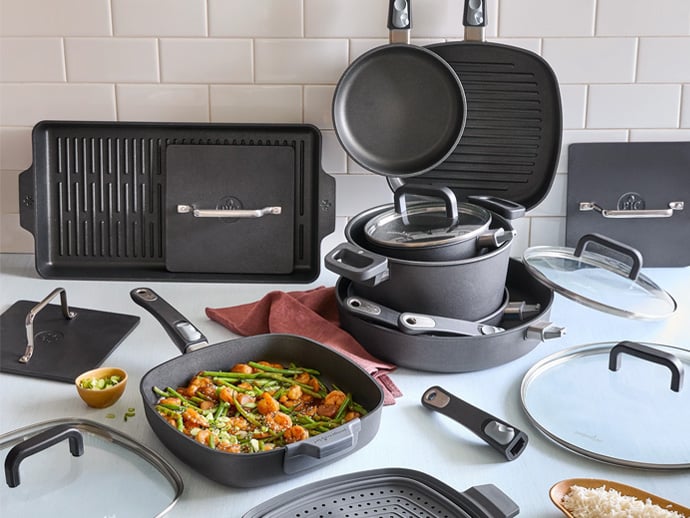 Signature Nonstick Cookware
Our premium nonstick has removable handles for easy stacking and storage—all with a lifetime guarantee.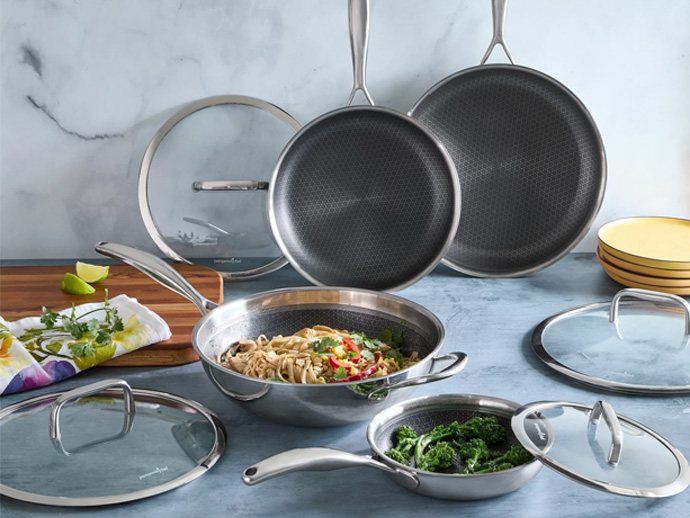 Stainless Steel Nonstick Cookware
They're a true hybrid, combining the cooking capabilities of traditional stainless steel with the easy cleanup of nonstick.
Cookware Comparison
Brilliance Nonstick Cookware
Signature Nonstick Cookware
Stainless Steel Nonstick Cookware
Best for
Everyday cooking
Saving space and everyday cooking
Searing meat and making sauces
Dishwasher-safe?
Yes
Yes
Yes
Broiler-safe?
No
No
No
Oven-safe?
Pan: 480°F (250°C)
Lid: 400°F (200°C)
Pan: 480°F (250°C)
Lid: 400°F (200°C)
Removable Handle: Not oven-safe
Pan: 450°F (230°C)
Lid: 400°F (200°C)
Induction-compatible?
Yes
No
Yes
Metal utensil-safe?
No
Yes
Yes
Construction
8-layer construction with aluminum core
Cast aluminum alloy
Tri-Ply: 18/10 stainless steel satin interior layer and a polished stainless 18/0 exterior layer
Coating
High-performance three-layer nonstick coating
4-layer titanium reinforced coating
Stainless steel mesh with high-performance nonstick coating
Made without PFOA?
Yes
Yes
Yes
PTFE-free?
No
No
No
Guarantee
10 Years
Pan: Lifetime
Removable Handle: 5 years
Lifetime
See Nonstick Cookware in Action
Brilliance Nonstick Cookware Collection Promo
Brilliance Nonstick Cookware 101
Fall 2022 Stainless Steel Cookware 101 Video
Nonstick Saute & Steam Pan Video
Nonstick Cookware 101 Video