– Our Nonstick Cookware Collection –
The Right Stuff
Simple everyday cooking requires the right tools. With our cookware collection, you'll always have the right tool for the job. It has all the pieces you'll use every day, from nonstick fry pans and stainless steel nonstick skillets to the ultimate one-pot meal maker—keep reading to learn more. Pampered Chef's line of high-quality pots and pans have the latest cookware technology, along with exciting features that make cooking faster, easier, and safer. They're designed to give you the confidence you need in the kitchen, so you can create mouthwatering meals any night of the week. The best part? Everything can go in the dishwasher when you're done so you can spend more time with your family and friends.
Material Matters
When it comes to great cookware, you have a lot of choices. It's an investment—but you want to invest in something you'll use every day. So, why should you shop Pampered Chef? Our reputation precedes us: We have more than 40 years of experience that goes into creating our curated, high-quality cookware sets. Our nonstick cookware has a top-of-the-line, titanium-reinforced coating that's perfect for everyday cooking. The stainless steel nonstick skillets combine the best features of two popular types of cookware, so you get perfect results and easy cleanup. Check out the comparison for details.

Shop the Collection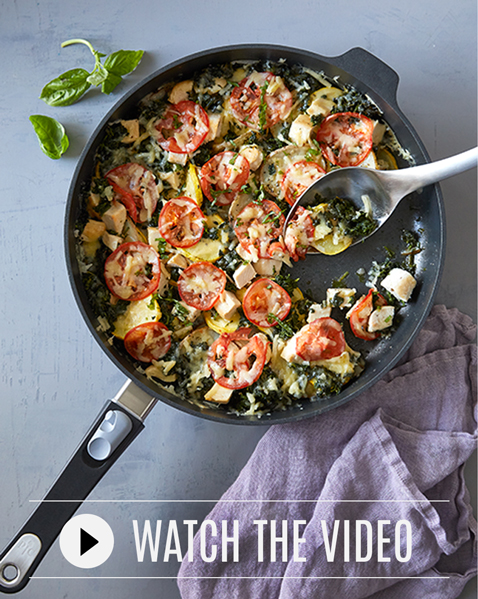 No-Fuss Nonstick
The best nonstick cookware is easy to use, easy to clean, and easy to love. Ours fits the bill, with open stock pieces that fit every need or a set that's perfect for stocking any kitchen. Food glides right off the titanium-reinforced four-layer coating, and it's safe to use with all your favorite kitchen utensils, even the metal ones.

Shop the Collection
A Good Grip
We've all struggled to get all our pots and pans into a kitchen cabinet, or had handles sticking into the second rack of our dishwashers. Imagine how much easier cooking and kitchen organization would be without those pesky handles in the way. Our nonstick fry pans, sauce pan, grill pan, skillet, and saute & steam pan all have 2-step removable handles, which make storing, washing, and cooking in the oven easier than ever. These interchangeable handles are easy to use: Just pop them off!

Shop the Collection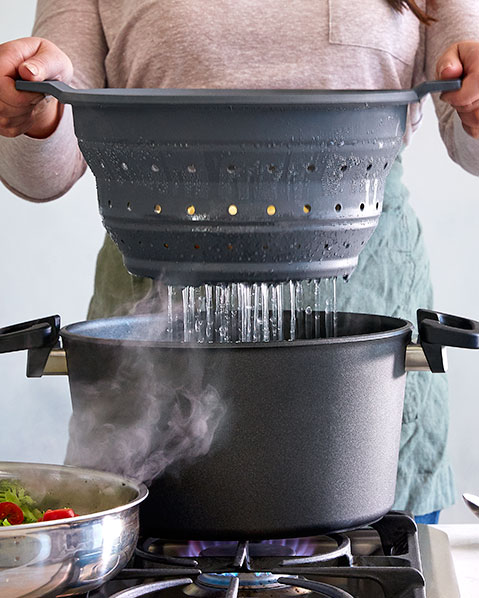 One-Pot Wonder
Weeknight dinners are effortless with the ultimate one-pot meal maker: our Multipot. This innovative pot holds 9 quarts (8.5 L), so it's perfect for large batches of soup, stew, sauce, pasta, and potatoes. There's even a lid holder built into the handle, so you can prop the lid up and let condensation run back into the pot instead of all over your counter. This amazing dinnertime tool is even better because it comes with a silicone strainer you can use five ways: collapsed as a boil-over guard or trivet, fully expanded as a strainer or colander, or partially collapsed as a steamer. You can boil your grains in the pot and let your protein and veggies steam without dirtying another dish. That's dinnertime, simplified.

Shop the Collection
Steel Appeal
Myth: Stainless steel is only for professional chefs. Truth: You can use stainless steel cookware every day, and it's a lot easier than you think. Our stainless steel skillets are a true hybrid: They combine the amazing cooking and heating capabilities of traditional stainless steel with the easy cleanup of nonstick cookware. With these innovative pans, you can get the perfect sear, make professional-grade pan sauces, and look like a pro—without breaking a sweat.

Shop the Collection
More Reasons to Love the Collection
Dishwasher-Safe
No one wants to spend extra time scrubbing pots and pans. Ours go in the dishwasher, so you can spend more time doing what you love. Since they're so easy to clean, you can actually use them every night of the week.
Lifetime Guarantee
We stand behind our cookware, so you can cook with confidence. All our nonstick and stainless steel nonstick cookware is
guaranteed for life
.
Metal-Utensil-Safe
Nothing's worse than getting new cookware and realizing you can't use your favorite spatula. These pots and pans are safe to use with all your favorite utensils. Yes, even the metal ones.
Rivetless Rocks
Our cookware is designed without rivets, so you'll never need to take a toothbrush to your cookware to get rid of residue or rust again.
Cookware Comparison
Nonstick Cookware
Stainless Steel Nonstick Cookware
Nonstick Cookware
Stainless Steel Nonstick Cookware
Best for
Eggs
Soup and stew
Fish and delicate foods
Searing meat
Making pan sauces
Dishwasher-safe?
Yes
Yes
Broiler-safe?
No
No
Oven-safe?
Pan: 480°F (248°C)
Lid: 400°F (200°C)
Removable Handle: Not oven-safe
Pan: 450°F (230°C)
Lid: 400°F (200°C)

Induction compatible?
No
Yes
Metal utensil-safe?
Yes
Yes
Construction
Cast aluminum alloy
Tri-Ply: 18/10 stainless steel satin interior layer and a polished stainless 18/0 exterior layer
Coating
4-layer titanium reinforced coating
High-performance nonstick coating
PFOA-free?
Yes
Yes
PTFE-free?
No
No
Lids
Tempered glass with phenolic handle
Tempered glass with stainless steel handle and rim
Guarantee
Pan: Lifetime
Removable Handle: Five-year (available as a replacement part)
Lifetime