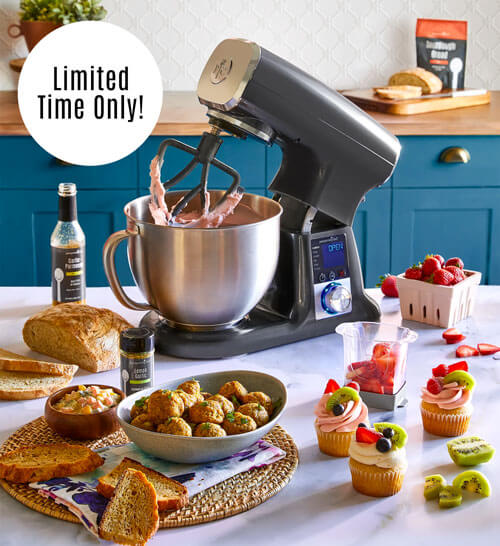 Early Access
Deluxe Stand Mixer
Get it for 50% off by hosting a party or earn it for FREE by becoming a consultant.
Magic in the Mixing
Whether you're baking a batch of cookies or making a meal for your entire family, the Deluxe Stand Mixer is there for you. It has no-guess presets that automatically reach the ideal time and speed, so you'll never under- or over-mix your batter again! You can use the Custom setting to set a specific time and choose from 8 manual speeds to prepare recipes you already know and love.
Plus, the Deluxe Stand Mixer goes beyond baking! Use the scraping beater to shred chicken and mash potatoes, the whisk to whip yogurt and whipped cream, and the dough hook to knead pizza dough. And if you're not sure which accessory to use, the LCD display clearly shows you the recommended accessory for your chosen preset along with the time and mixing speed, so you can mix anything from meatloaf to sweet dough like a pro.
Product Details
12½'' (31 cm) x 16¼'' (41 cm) with the bowl in place
5.75-qt. (5.4-L) capacity
500 watts
Premium metallic graphite gray finish
Includes a 5.75-qt. (5.4-L) stainless steel bowl, scraping beater, whisk, dough hook, and cooking guide
Bowl and accessories are dishwasher-safe
5 preprogrammed settings: Whip, Cream, Mix, Beat, and Knead
Custom setting: Set a specific time and choose from 8 manual speeds
Its even weight distribution, built-in carrying handles, and compact cord storage makes it easy to move around the kitchen
Get to Know the Deluxe Stand Mixer
add
add
add
add
add
add
Digital Display
Easy-to-use controls and clear displays.
On/Off Switch
Flip the switch to turn it on and off between batch-mixing.
5.75-qt.(5.4-L) Stainless Steel Bowl
This bowl is durable, lightweight, and dishwasher-safe.
Open/Close Lever
Pull up to open or close the mixer head.
Even Weight Distribution, Cord Storage & Carrying Handle
Easy to move around the kitchen, place on the countertop, and even store in a cabinet.
Tilting Mixer Head
Easily switch out the accessories to mix cookie dough, mash potatoes, and more.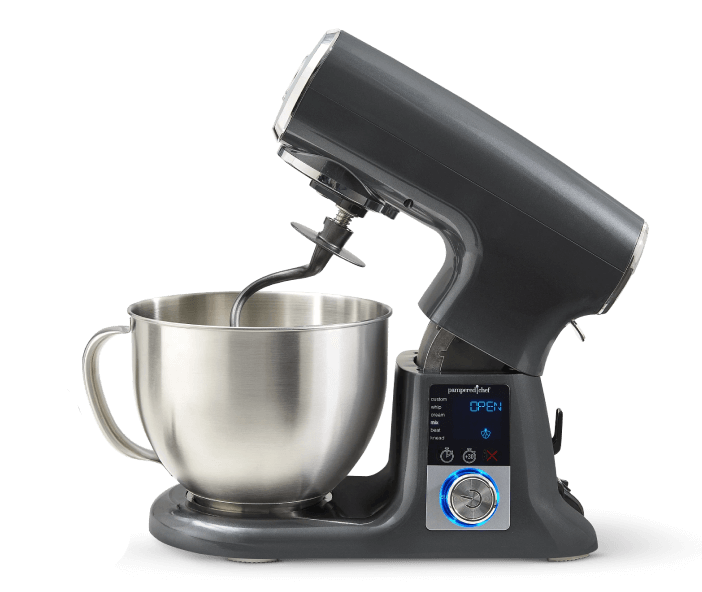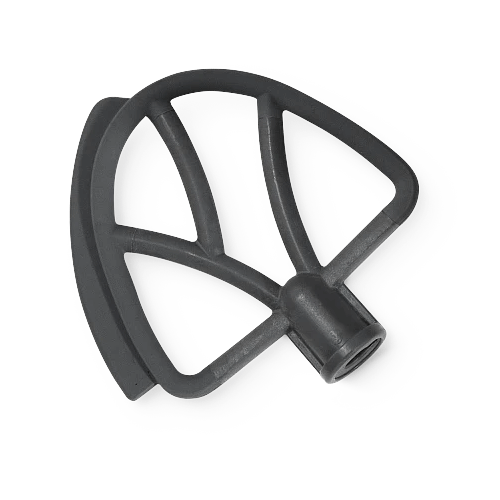 Scraping Beater
It scrapes the sides of the bowl as it's mixing.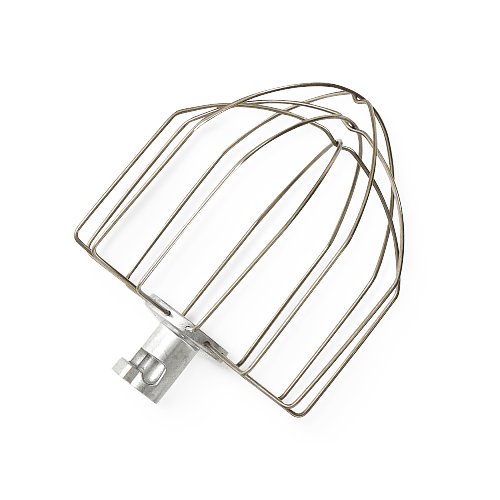 Whisk
Whip everything from fluffy meringues to smooth whipped icings.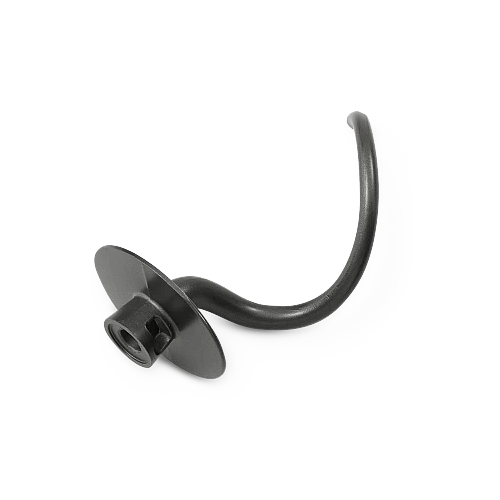 Dough Hook
A quicker way to make heavier doughs like bread, pizza, and pasta.
More Unforgettable Features
These no-guess presets take the guesswork out of whipping, creaming, mixing, beating, and kneading. Each preset starts slow and ramps up in speed, minimizing the mess!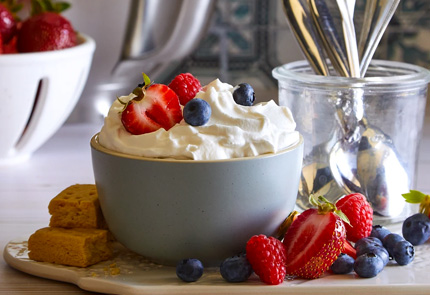 Whip Setting
Make whipped cream, meringue, butter, and egg salad.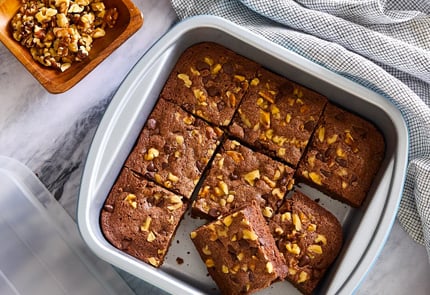 Mix Setting
Slowly combine ingredients for brownies, muffins, quick breads, dips, and meatballs.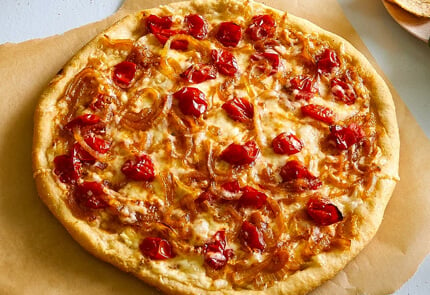 Knead Setting
Bring together ingredients for bread, pizza dough, and cinnamon rolls in less time than by kneading by hand.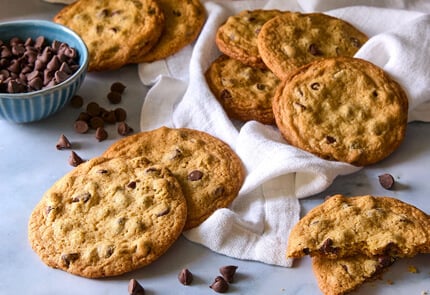 Cream Setting
Create light, fluffy cakes, cookies, and frosting every time.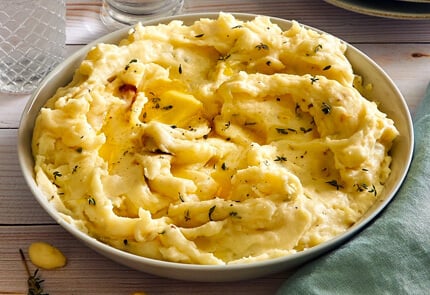 Beat Setting
Add the perfect amount of air to cake batters, frostings, and mashed potatoes.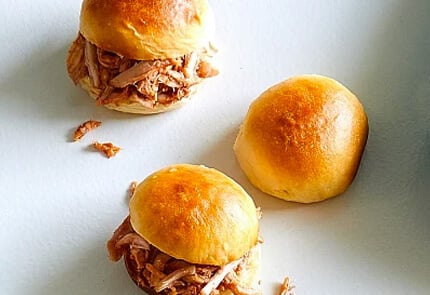 Custom Setting
Set a specific time and choose from 8 manual speeds to make recipes you already know and love.
2 Ways to Get the Deluxe Stand Mixer
There are two ways to get your hands on this must-have product.
How to Use the Deluxe Stand Mixer
Check out these resources to get even more info about the Deluxe Stand Mixer.
Deluxe Stand Mixer Recipes to Try
Deluxe Stand Mixer FAQ
Why do I need to do the Initial Test Run (water test)?
The initial test run helps you get familiar with your Deluxe Stand Mixer, including the sounds it makes, how it looks when it's mixing, and what buttons to press.
What materials is the Deluxe Stand Mixer made of?
The outside materials are:
Die-cast aluminum
Plastic
Stainless steel
The accessory materials are:
Beater: Glass-filled nylon and silicone
Dough Hook: Cast aluminum with nonstick coating
Whisk: Cast aluminum coupler and stainless steel whisk tines
Why doesn't the +30 Seconds button work after 10 minutes of consistent running?
The maximum run time of the Deluxe Stand Mixer is 10 minutes, so time cannot be added after that. We recommend waiting 10 minutes before running another cycle.
Why does the Deluxe Stand Mixer Head move up and down while mixing?
This may happen when mixing a heavy load, like bread dough, and is considered normal. If this happens, we recommend opening the open/close lever with one hand while the other hand is on the mixing head. This takes stress off the mixing head. Note: Never open the mixer while mixing.
How can I ensure my food turns out correctly using the presets?
In most cases, the presets will mix your food to the desired consistency. However, some other factors may affect mixing like ingredients and volume. You may adjust the mixing time on your preset according to your recipe. Time can be adjusted in each preset, but speed cannot.
How can I ensure the head closes after attaching the Scraping Beater?
Make sure the mixer is off and unplugged. Install the Scraping Beater according to instructions in the use and care. If the mixer head won't close, rotate the beater slightly to a different location on the mixer head then try closing.
The silver plate with the PC logo came off the front of the Deluxe Stand Mixer. Is it broken?
No, the Deluxe Stand Mixer is not broken. The plate will snap back into place.