Use & Care
Product Features
Durable stainless steel gripping ends are rust resistant.
Long phenolic handle keeps hands away from the heat.
Patented locking mechanism keeps arms in closed storing position.
Convenient hanging ring for easy storage.
How to Use
To open Tongs, slide black locking mechanism, located on hinge end of Tongs, in direction of arrows. This will release Tongs for use. To close Tongs, squeeze handles and slide mechanism in reverse direction. (see illustration)
Position gripping ends around food; squeeze handle to bring tips together. Turn food as desired.
Tongs are best suited for vegetables, chops or sausages. Avoid using with burgers or fish, which will easily break.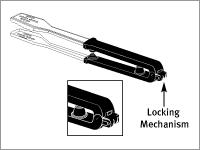 How to Clean
Dishwasher-safe; wash prior to first use.
Five-year guarantee for noncommercial use. Refer to sales receipt for details.
Made in Taiwan
Guarantee