Use & Care
Hand wash only; wash prior to first use. It is not recommended to use soap, detergent or an automatic dishwasher. Not dishwasher-safe.
Stoneware will naturally season and develop a natural nonstick surface over time with use.
Stoneware can be used in conventional, convection and microwave ovens, and is freezer-safe.
Stoneware is heat-resistant to 450°F (230°C). Do not use Stoneware under broiler or on direct heat source. Follow oven manufacturer's guidelines.
Aerosol nonstick spray is not recommended; it will create a sticky residue which is difficult to clean.
Three-year guarantee for noncommercial use. Refer to sales receipt for details.
Microwave Egg Cooking Guide
For best results, follow directions provided.
Guide is based on timing with large eggs. More time is required for extra-large and jumbo sized eggs.
Eggs can be prepared in 1 or 2 wells; leave unused well empty.
Microwaves can vary. Adjust cook times as needed.
Due to microwave variability, one side may heat quicker than the other side.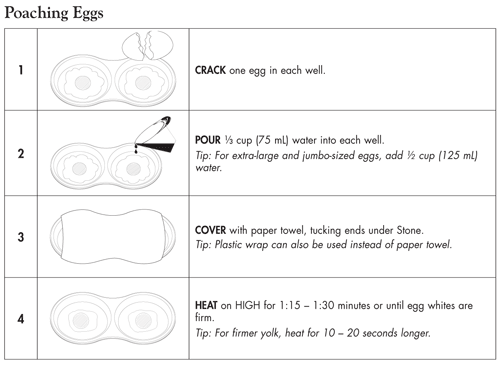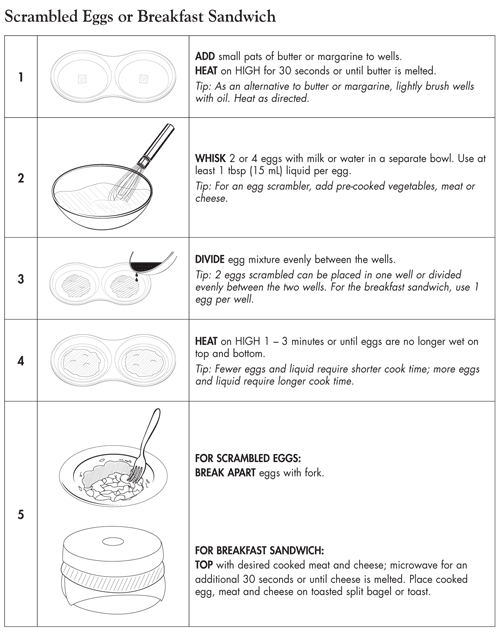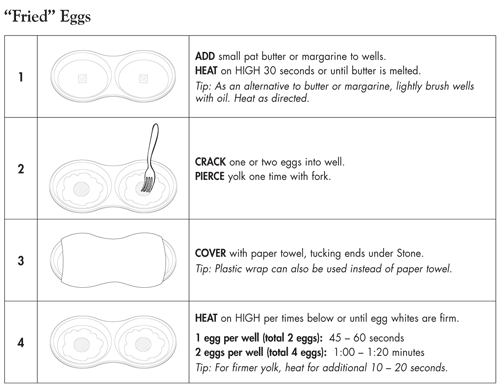 Stoneware Tips
Do not use electric hand mixer or immersion blender in the Stoneware.
Prevent breakage from thermal shock by avoiding extreme temperature changes.
Do not place dense, frozen food items on Stoneware. Always thaw dense, frozen food in refrigerator prior to baking.
Foods refrigerated in Stoneware may be placed directly in a preheated oven.
Do not place any other pan or rack on top of Stoneware while baking.
Safeguards
Hot Stoneware can cause burns if handled improperly. Always use a heat-resistant oven mitt or pad when handling hot Stoneware or placing on surfaces.
Stoneware may scratch surfaces. Protect surfaces by using a protective barrier between Stoneware and surface.
Avoid extreme temperature changes. Do not use chipped or damaged Stoneware. Stoneware can break if bumped or dropped. If this occurs, use caution as broken pieces can be sharp and could cause injury.
Stoneware should not touch the sides or door of the microwave or oven when closed.
Made in USA