The Stand Mixer makes this classic recipe simple, quick and so easy to clean up!
Ingredients
2 lbs. (1 kg) ground beef
2 tsp (10 mL) salt
1 tsp (5 mL) pepper
2 eggs
1 cup (250 mL) plain bread crumbs
⅔ cup (150 mL) milk
2 tbsp (30 mL) Worcestershire sauce
1 medium onion, chopped
¼ cup (60 mL) ketchup plus more for brushing
Directions
Preheat the oven to 400°F (200°C).
Add all the ingredients to Deluxe Stand Mixer. Using the paddle attachment, select MIX and adjust the time to 45 seconds. Press Start.
Divide the meat into 2 portions. Form into 2 loaves approximately 12" x 5" (30 cm x 13 cm) on a parchment paper-lined sheet pan.
Brush the top and sides of each loaf with ketchup (about ¼ cup per loaf).
Bake for 45 minutes or until the internal temperature reaches 160°F (71°C).
Let rest 5 minutes before slicing.
Nutrients per serving:
U.S. nutrients per serving: Calories 220, Total Fat 13 g, Saturated Fat 5 g, Cholesterol 85 mg, Sodium 590 mg, Carbohydrate 9 g, Fiber 0 g, Sugars 3 g (includes 2 g added sugar), Protein 17 g
Cook's Tips: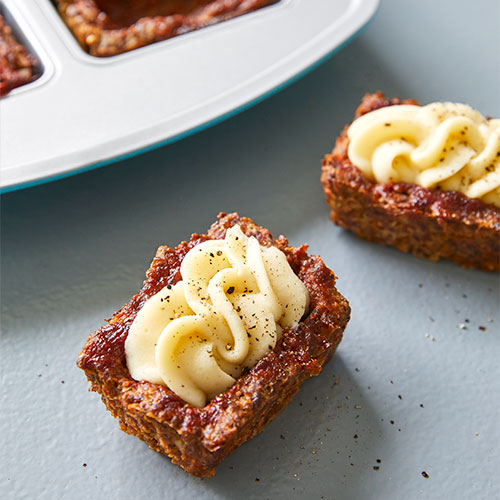 To make Easy Mini Meatloves, bake in the Mini Loaf Pan for 20-25 minutes an pipe on mashed potatoes.
You can make these in a 9" x 5" (23cm x 13cm) loaf pan. Just increase the cook time to 55 minutes.
This recipe makes 2 loafs, so eat one today and wrap up another for sandwiches tomorrow or even freeze it for a quick meal fix!
You can brush the top with hoisin, teriyaki, barbecue or other sauces to give your meatloaf a fun, unique twist.
To make Easy Mini Meatloaves, bake in the Mini Loaf Pan for 20-25 minutes and pipe on mashed potatoes.
Related Products
Related Recipes