homepage-session-timeout
Holy Guacamole!
Guacamole is a guaranteed crowd-pleaser for any occasion. Whether it's Cinco de Mayo, a backyard cookout, a March Madness party, or taco night, the list of places where guac is the dip of choice are endless. But there's nothing worse than a bland rendition of this avocado-based party companion. Don't let sad guacamole happen to you. Check out the infographic below for some creative ways you can personalize this appetizer. Impress your taste buds and everyone else's!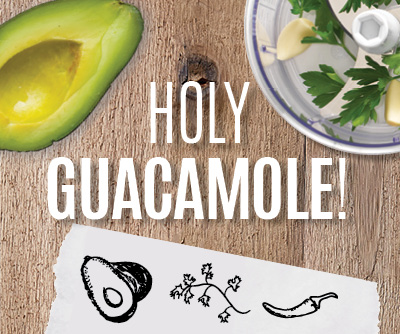 ---

© 2016 Pampered Chef used under license. Pampered Chef, Pampered Chef and Spoon design, PC and Spoon design and Spoon design are trademarks used under license.
There was an error loading the Component. Please try again later.
Add Order To A Party
OR
Shop With Your Consultant
OR
Just Shop
You will not be connected to a party or Consultant.
You will not be connected to a party.
Your Session Has Timed Out
Sorry, your session has timed out due to inactivity. If you were not signed in, any items in your cart have been removed. Click OK to keep shopping with this Consultant!
Ok